Complete Set - 1836 Armory Suppressors and Muzzle Brakes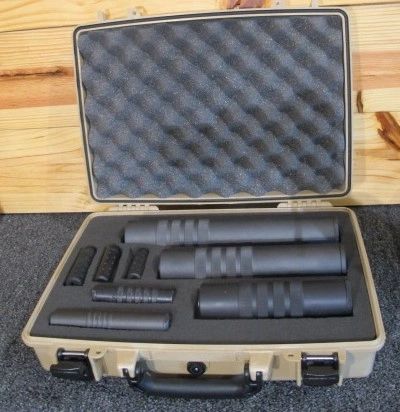 Complete Set - 1836 Armory Suppressors and Muzzle Brakes
A complete set of 1836 Armory Suppressors and muzzle brakes.  One each of 7.25" Defense Model, 9.75" Stalker Model, 12.25" Sniper Model, 4" Ambush 22 LR, and 6" Verminator Model for 22 LR.  Along with a set of Standard, Medium, and Magnum muzzle brakes.  Packed in a Pelican 1470 case for their protection.  
Mix and match your standard calibers (5.56 MM. 30 Cal, 9 MM, 6.5 MM, and 338 Lapua.  Custom calibers $100 additional.  
Available in Cobalt and Black.  Other Ceracote colors available at additional cost.  
These retail for $4,250 separately.  
Reviews