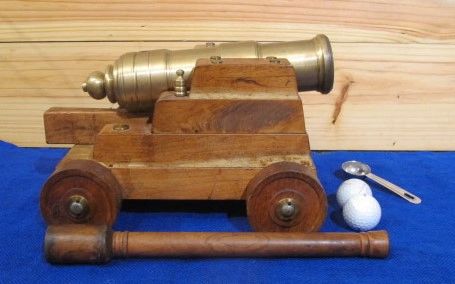 Golfball Cannon
Comes with a lifetime guarantee to piss off all your neighbors wives.  And possibly their husbands.  Shoots golfballs well out of sight, probably over 1000 yards.  I cannot convince anyone to go look where they land.  LOL.  Utilizes black powder and cannon fuse to create spectacular results. 
Handcrafted from Marine Grade Brass, this little charmer has a deep satisfying boom.   This craftsmanship piece started with a solid billet of marine grade brass and was hand turned on a lathe over many hours.  The base was made from mesquite harvested on 1836 Armory property and hand cut and polished to a beautiful finish.  
Item comes with a matching turned brass fuse pocket cleaner, mesquite elevating wedge, and mesquite ramrod along with powder measure.  
Custom builds available in your style or wood preference.  Each one is a one of a kind and a work of art.  And a work of fun!!!
Reviews