556 Moderator - 7" Suppressor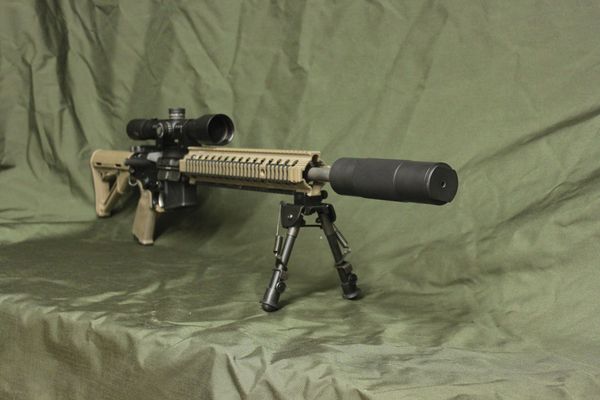 556 Moderator - 7" Suppressor
The 1836 Armory 5.56 7.5" Moderator is designed to provide performance and a great shooting experience. In 5.56 NATO caliber for AR-15 type rifles and suitable for 22-250 and similar small calibers, these suppressors have:
Excellent Sound Suppression
Muzzle Flash Elimination
Superb Recoil Reduction
Improved accuracy
Constructed with aircraft grade stainless steel bodies and stainless steel and aluminum internal components, 1836 Armory Moderators are maintenance free and designed for years of hard service in difficult conditions. They are machined on CNC lathes to extreme tolerances and hand fitted for maximum performance.
Your properly fitted 1836 Armory 5.56 Moderator will accurize your weapon through improved harmonics, less recoil, and less shooter flinch from sound. Subsonic ammunition is not available for these calibers so there will still be sonic boom of the round during firing but the muzzle noise will be eliminated. Hearing protection is not required during shooting.
Muzzle Flash is essentially eliminated.
ATF Tax Stamp and registration required for transfer to end user
Specifications:
Length: 7.5"
OD : 2"
Weight: 20.6 oz.
Rated for full auto fire
Available in 1/2" x 28 threads only
Available in Cerakote colors Black Matte, OD Green, Desert Tan, and Natural Finish Stainless (Polished and Matte)